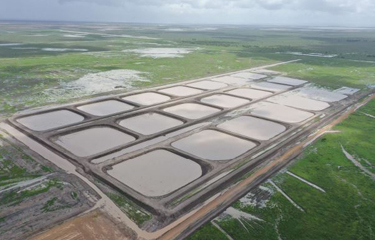 Seafarms' Sea Dragon project 'cannot continue in its current form', company review says
The 1.45 billion AUD (1.1 billion USD, 941 million EUR) plan by Seafarms Group, based in Darwin, Australia, plans to develop up to 10,000 hectares of ponds at Legune Station, near Kununurra in Western Australia, to farm up to 180,000 metric tonnes of black tiger prawns a year is not viable, according to a review of the project recently published by the company.
In November 2021, Seafarms Group's new Executive Chairman and Chief Executive, Mick McMahon, and Chief Financial Officer Ian Brannan launched a review of the so-called Sea Dragon project, which was to be built in stages subject to receipt. of funding. The first phase of construction began in 2021, at an expected cost of 281 million dollars (249 million euros), with the objective of achieving a first harvest by the end of 2023 and eventually producing 10,000 tons of shrimp per year. However, McMahon ordered a pause in the development of the project until 2022 because it was "not considered possible to finalize debt and equity financing agreements before the end of the calendar year", he said. he declared upon his appointment.
In an October 2021 update, Seafarms issued a new estimate for the first phase of the project between AUD 370 million and AUD 410 million (USD 279 million and USD 310 million, EUR 256 million and EUR 283 million), the increase being due to "scope and design adjustments, technical design final and escalating cost pressures in the market. The company said additional equity financing and additional debt financing would be required to complete the first phase of the project.
In 2018, the project attracted interest from Tokyo, Japan-based conglomerate Nippon Suisan Kaisha (Nissui), which invested 25 million AUD (18.9 million USD, 17.3 million EUR) for a 15% share in Seafarms Group. At the time, Nissui said it sought "to secure a business base and differentiated farmed shrimp products."
"Through this equity investment, Nissui will market Project Sea Dragon black tiger prawn products exclusively in Japan, the Australian and New Zealand markets, in addition to potential global distribution through the Nissui Global Links network. Nissui Group will also distribute in Japan and the Oceania region approximately 2,000 tonnes per year of black tiger prawns and other prawns from Seafarm Group's existing prawn farming operations in Queensland, including products of its full breeding cycle," Nissui said in a May 2018 press release.
McMahon and Brannan's opinionmade public at the company's general meeting of shareholders on March 31, 2022, acknowledged the failure of Seafarms' efforts to raise AUD 150 million (USD 113 million, EUR 103 million) for the Sea Dragon project, which had been initiated in June 2021. He also found that the business model on which Seafarms relies – profitable 10-hectare ponds – has "not been proven in Australia" and that its current farming operations have "fundamentally underperformed".
"The Sea Dragon project cannot continue in its current form – there is no funding to continue given the failure of the debt financing process," he said. "In any event, the project review recommends against proceeding with the PSD in its current form – it will not generate acceptable financial returns, the existing scope cannot be completed for the targeted costs or to achieve the target completion dates, and the project currently involves unacceptable risk."
Even though the first phase of the project had already been reduced to a capacity of 6,000 metric tons in 2021, the review recommended a further withdrawal, advocating a pilot project instead.
"An agricultural pilot is being developed, building on the existing partially built [one-hectare] Legune ponds. However, it will take up to three years to redefine, build and conduct a pilot project with minimal infrastructure, review permits and licenses, complete pilot construction, store and operate the ponds and evaluate the results," he said. said, adding that enough funding to complete the pilot, even with the extended deadline, was not available.
Even if the project went ahead, it would have to fundamentally change its target market – to grade and freeze its shrimp locally for export and overseas reprocessing, rather than targeting the domestic market with fresh and cooked shrimp. , according to the study.
"To deliver on its promise, the PSD will need to be export-oriented, large-scale, high-quality and low-cost, and the review has identified areas of the project that need to be modified to achieve this goal," he said. he declared. noted.
The review blamed the project's dire outlook on higher-than-expected construction costs, in part due to shortages, labor issues and inflation caused in part by the COVID-19 pandemic. The project's remote location had also made the project more expensive and logistically challenging. Additionally, not all of the company's breeding, processing and breeding operations are internationally competitive, he found.
"The viability of the Sea Dragon project depends almost entirely on the outperformance of agriculture in Legune relative to existing operations and competitors, as almost all other economic factors mitigate viability. For PSD to continue in any form, agricultural outperformance will need to be demonstrated," the report states. "Shrimp aquaculture is a complex and integrated agricultural supply chain and the combination of a new location/environment, unproven 10 hectare ponds and the absence of an existing competitive farming system creates an unacceptable risk without piloting and proving the overperformance of the breeding."
The report struck a more positive note in its review of existing Seafarms operations in Queensland, Australia. The company operates two main farming sites in Cardwell and Ingham, which together produced 1,366 MT of black tiger prawns in the 12 months ending June 30, 2021, according to the Australian Financial Reviewand sells products through a retail partnership with Woolworths.
"[The Queensland] operations will continue to provide fresh and frozen, cooked, high quality products to domestic customers. There is strong domestic demand for quality products, supported by pressure on wild fishing and a renewed drive to localize supply chains and substitute imports in a higher-risk post-COVID world," says the report. "Seafarms has a strong brand in Crystal Bay and long term supportive customer relationships. There is demand from end consumers and retail customers for banana prawns as well as tiger prawns and Seafarms is well placed to supply banana prawns (in addition to tiger prawns). »
Nonetheless, Searfarm's operational and financial performance lagged, with the company's production volumes falling by around 50% from its peak production period, and the company generating losses in seven of last eight years. The review recommended that the company focus on improving its operations in Queensland as the most viable strategy, with investments to be focused on large-scale construction, farming capabilities and breeding and operational rationalization. Such an investment could also theoretically support the eventual development of the Sea Dragon project "particularly in terms of technology, systems, processes and capabilities", he found.
In the days following the announcement, Seafarms Group stock, which is traded on the Australian Stock Exchange, lost almost 50% of its value, from 0.03 AUD (0.022 USD, 0.02 EUR) to 0.018 AUD (0.015 USD, 0.013 EUR). In previous months, several of the company's senior executives had left or changed roles in the company, including former executive director and company secretary Harley Whitcombe and former executive director Chris Mitchell, who both resigned in November 2021; and former Executive Chairman Ian Trahar, the company's largest shareholderwho remains a non-executive director of Seafarms Group and chairman of the board of CO2 Australia, which spun off from Seafarms Group in 2018. $3.7m, €3.4m) of funding to Seafarms, did not stand for election and left office in January 2022.
At the March 31 general meeting, McMahon – who had brought an "air of optimism" to shareholders regarding the viability of the Sea Dragon project when he took over the reins of the company in November 2021, according to the Australian Broadcasting Company – apologized.
"It's fair to say we were shocked by what we found when we entered the business," McMahon said. "I feel an important responsibility to the shareholders who have invested their money in this business and especially those who have done so since I came into business. I apologize to them for what we had to present today."
Photo courtesy of Seafarms Group