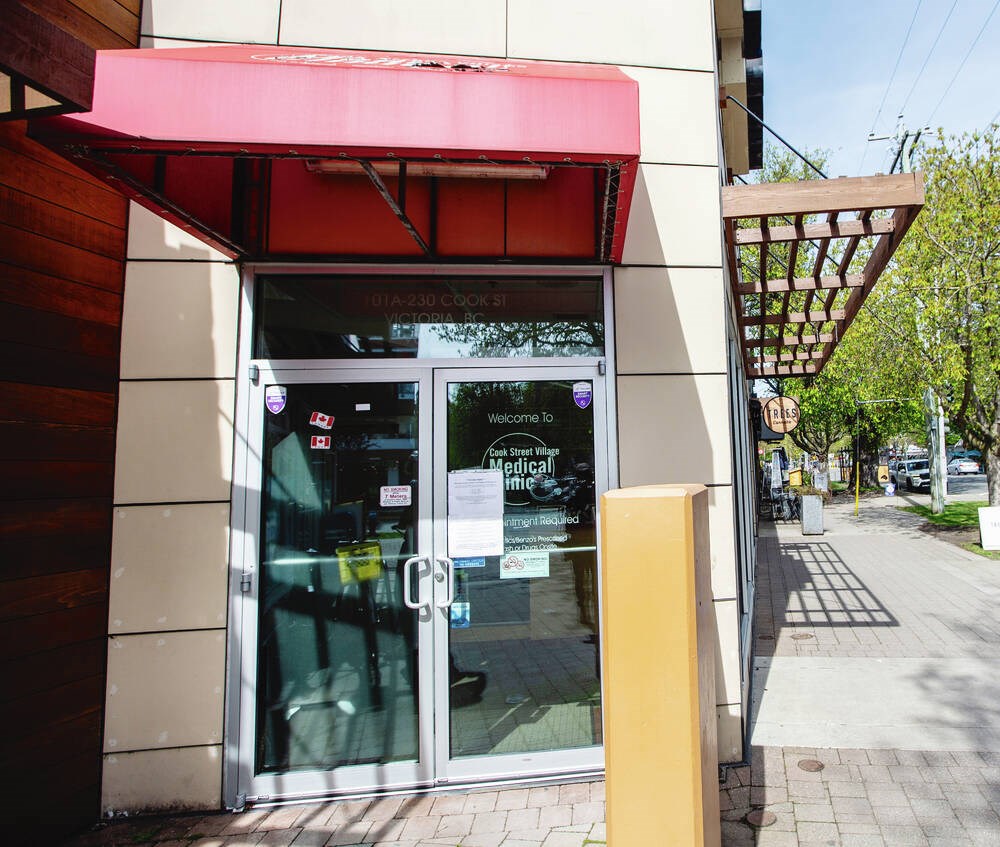 Province announces funding for clinics as region loses third walk-in this month
The $3.46 million will support approximately 10 full-time equivalent family physician positions at the five clinics through Dec. 31, approximately six registered nurse positions and other health care professionals.
The British Columbia government will spend $3.46 million to keep five South Island walk-in clinics open, but the money won't save three more that are set to close this month.
Short-term stabilization funding announced by Health Minister Adrian Dix on Friday will be used to hire more doctors, nurses and other healthcare workers to support walk-in services at the Esquimalt Medical Clinic , at the West Coast Family Medical Clinic in Sooke, West Saanich Medical Clinic and Shoreline Medical clinics in Brentwood Bay and Sidney.
"It gives these vendors a lot more options to recruit people and to recruit people with the types of contracts that people are trying to seek," Dix said. "We are confident that we will have success with this."
The clinics are part of what's called a Primary Care Network – clinics that receive support to provide care as a team – and funding comes from the South Island Primary Care Network's walk-in clinics working group.
The $3.46 million will support approximately 10 full-time equivalent family physician positions at the five clinics through Dec. 31, approximately six registered nurse positions and other health care professionals.
Funds are also available for overhead and a steering committee to support the work over the next nine months. However, the funding will not prevent the closure this month of the Eagle Creek Walk-in Medical Clinic in View Royal, the Colwood Medical Treatment Center or the Cook Street Village Medical Clinic.
Dix said only five of the seven clinics in the South Island Division of the Family Practice Primary Care Network have taken up the offer of short-term funding to keep their walk-in clinics open. Eagle Creek Medical and Colwood Medical are scheduled to close on April 15.
Matthew Ward, chief medical officer of Eagle Creek, said he did not have the doctors to replace a team of wife and husband doctors leaving this month who helped serve patients who did not have their own doctor through the walk-in clinic, and had a patient load of around 1,500 each.
"The reason I'm closing the walk-in is that I don't have the doctors for it and I can't safely take care of all these orphan patients who are lost because of the two doctors who are leaving," Ward said, noting he hired a high-priced recruiter to search for doctors internationally.
"There just isn't anyone who wants to come and practice family medicine in Victoria," he says. "We really need to nudge physicians back to community-based longitudinal family practice, understand what the market forces are, and really push for that."
A traditional practice family physician's compensation is likely under $100,000 a year, Ward said. The average overhead is around $85,000.
The walk-in clinic at Cook Street Village Medical Clinic is part of the Victoria Division of Family Practice PCN, which is also in talks with the province.
While Dr. Ian Bridger, medical director of five family practice walk-in clinics in the area, including the Cook Street Clinic, has not secured short-term funding for his clinics, he has found l promising Friday announcement.
"It's fantastic," said Bridger, who wants the province to do everything it can to attract doctors. "I think it's so smart to step in with bridge funding while they try to figure out the long-term answer."
Dr. Ramneek Dosanjh, President of Doctors of BC, said she welcomes the provincial government's "short-term fix", but many communities in our province are experiencing the same issues as the South Island. "Every week we hear of more doctors closing their practices and more patients scrambling, quite honestly, to find primary care.
As the province and Doctors of BC negotiate the framework agreement with doctors, doctors are in part looking for alternatives to the fee-for-service plan – which pays doctors about $31 per patient visit – such as contracts and salaried work, as well as more payments for work that is not currently in the fee code.
"We need to understand the high costs of running clinics," Dosanjh said. "It needs to be tackled because business costs are rising fast and doctors can't keep up.
"We are at great risk of doctors folding in and closing their practices and so we need a strategy to retain doctors who are currently providing longitudinal primary care."
Victoria family physician Dr Jill Norris recently wrote a letter to Dix, co-signed by thousands of primary care physicians, asking for urgent action to address "unfair compensation for family physicians", saying that there is no time to wait for the Physicians Framework Agreement to be concluded.
Norris pointed to colleagues closing their practices, missed or delayed diagnoses due to growing numbers of lonely patients, ER doctors and specialists dealing with cases that could have been prevented with primary care and an increase in hospital admissions. the hospital.
"Family medicine morale, for those practicing full-service longitudinal family medicine on a fee-for-service basis, is decimated," she wrote.
The ministry plans to pilot an urban locum program, where new doctors are encouraged to provide coverage within their local primary care network. It is also looking at an after-hours call coverage service supporting local clinics.
– – –
Previous story
A walk-in clinic in Cook Street Village has closed, citing a shortage of doctors.
It is one of three clinics that will close this month in the capital region.
Dr Ian Bridger, medical director of five family practice walk-in clinics in the area, said it was a difficult decision to close the Cook Street Village Medical Clinic walk-in clinic, which serves around 5 000 patients as an emergency clinic.
"Without some sort of miracle, it will be permanent," Bridger said. "We just closed and we closed reluctantly…we just ran out of doctors willing to do this work."
About 900,000 people in British Columbia, including about 100,000 in the South Island, do not have a family doctor.
James Bay Medical Treatment Center in Victoria closed at the end of February to all but complex and vulnerable care patients, Eagle Creek Medical Clinic in View Royal and Colwood Medical Treatment Center both announced plans to close their services without appointment on April 15, displacing thousands more sick.
Some physicians leaving private primary care practices cite increased operating costs and a lack of other forms of payment – such as salary and contracts – compared to the traditional fee-for-service model, where a physician bills the Medical Services Plan $31.62 per patient visit. The average doctor can pay around $85,000 to $100,000 a year in overhead costs.
The medical director of the Cook Street Village Medical Clinic said he would reopen the clinic tomorrow if he could find a doctor to work there. "These 5,000 [patients] now nowhere to go.
On Wednesday, Dr. Katharine Smart, head of the Canadian Medical Association, called on the federal government to come up with a plan to deal with the "health human resource crisis" of doctors, nurses and other health professionals leaving or are retiring en masse.
The Canadian Medical Association and other groups want a federal strategy, or even an agency, to count, track, train and retain health care professionals to keep Canada's health care system afloat.
Smart said the initial cost to get the idea off the ground would be just $2 million.
Provinces have called for a sustained increase in federal health transfers so they can make more systemic improvements to their systems, calling on the federal government to increase its share of health care costs from 22% to 35%, a increase of about $28 billion. annually.
BC Green Leader Sonia Furstenau said the health care system is at a "breaking point" and called on the provincial government to modernize it by funding more alternative payment models, offering "relief immediate" to existing primary care family physicians and recruiting more family practice physicians.
"We need a comprehensive approach to support the doctors who are currently providing this longitudinal care and we need to know that when they retire their clinic will continue to care for patients," Furstenau told a press conference. .
There's a generation right now that has never had the experience of having a family doctor or a nurse practitioner, she says.
"People haven't had access to consistent quality health care for some time, and it's reaching a breaking point."
The provincial government has opened urgent and primary care clinics, which provide needed care within about 48 hours to relieve hospital emergency rooms and aim to match some patients with family doctors. Clinics offer physicians the option of being paid or employed on a contract basis.
British Columbia Health Minister Adrian Dix said other payment arrangements with physicians have grown from $500 million in 2017-18 to $758 million today. "We've been working in that direction, working with doctors in BC, working with family practices to do that."
Many young doctors want to receive a salary or some other form of non-fee-for-service payment, making it difficult for family practices working under a fee-for-service model to recruit them, he said. declared.
The province is working with doctors in the Victoria area on the issue, Dix said.