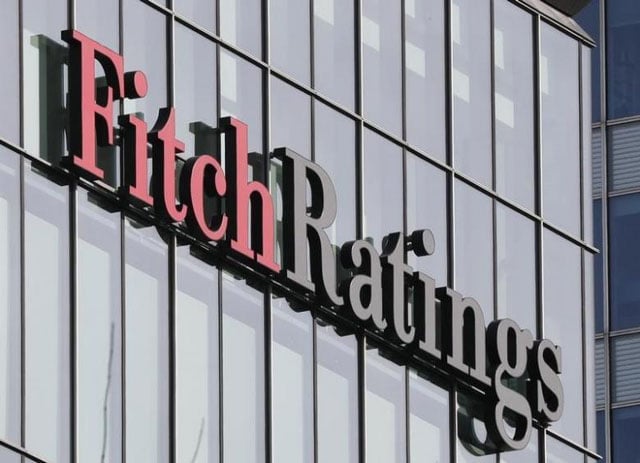 Fitch downgrades the country's IDR to "CCC+"
CARACHI:

Fitch Ratings downgraded Pakistan's long-term foreign currency issuer (IDR) default rating to "CCC+" from "B-" on the day the Asian Development Bank (AfDB) approved $1.5 billion in financing million for the country and the Financial Action Task Force (FATF) moved Islamabad from the gray list to its white list.
"The downgrade reflects a further deterioration in Pakistan's external liquidity and financing conditions, as well as declining foreign exchange reserves," the global ratings agency said in a statement on Friday.
"Fitch does not generally assign outlooks to sovereigns with a rating of 'CCC+' or lower," he added.
FATF's decision to relocate Islamabad on the whitelist is expected to improve foreign currency inflows, including from overseas investors.
Fitch announced its latest rating action after Moody's Investors Service downgraded Pakistan's credit rating to "Caa1" from "B3" about two weeks ago.
Finance Minister Ishaq Dar and his team had called the decision "unilateral" and said the verdict was based on "incomplete information".
Dar and his team had updated that Pakistan was under the International Monetary Fund (IMF) loan program, while the country had comprehensive arrangements worth around $36-40 billion to repay debt. financing the current account deficit (CAD) and increasing foreign exchange reserves in FY23.
However, both rating agencies ignored the upcoming developments.
Fitch said Pakistan's debt-to-GDP ratio was 73% for FY22, broadly in line with the current "B" median.
"We expect the debt-to-GDP ratio to fall to 70% in FY23 and continue to decline, helped by high inflation and a modest primary deficit," the ratings agency added.
He predicted the country's DAC would shrink to $10 billion [2.7% of GDP] in FY23, despite the hit to export earnings and import requirements after the recent floods.
Fitch said his decision was partly the result of widespread flooding, which would undermine Pakistan's efforts to rein in fiscal and current account deficits.
"The downgrade also reflects our view of heightened policy risks that could undermine the IMF program and official financial support for Pakistan," Fitch's statement said.
Pakistan's external public debt maturities in FY23 exceed $21 billion, mostly to bilateral and multilateral creditors, "which mitigates refinancing risks, and there are already agreements to refinance some of between them".
"Reserves were depleted to $7.6 billion during the week ended October 14, 2022, equivalent to just over a month of import payments and debt repayments. They amounted to to $20 billion by the end of August 2021," he said.
The rating agency said Pakistan had recently received funding commitments of $2.5 billion from the World Bank and AfDB, according to authorities, although it understood that much of this amount had been reallocated from ongoing programs.
"It remains unclear to what extent the IMF will be able to relax Pakistan's program targets or increase [the country's] access under the EFF [Extended Fund Facility]", we read in the press release.
Fitch assumed that Pakistan would continue to receive disbursements under its IMF program, but the risks in this regard had increased.
"Falling fuel prices [in local markets] October 1, 2022 may not be compatible with commitments to the IMF. A quarterly electricity price adjustment scheduled for October has not yet taken place," Fitch added.
The new Minister of Finance has reaffirmed his commitment to the program, but prefers a "strong exchange rate, and could review the amended SBP law in early 2022 to grant the [central bank] greater autonomy, as previously agreed with the IMF," Fitch said in support of his decision to downgrade the country's credit rating.
He also expects the country's budget deficit to narrow to 6.2% of GDP (about 5 trillion rupees or $23 billion) in FY23, due to some restriction. spending and higher taxes from 7.9% of GDP (over Rs 5 trillion) in FY22.
Fitch said it saw gross domestic product (GDP) growth slow to around 2% in FY23 from 6% in FY22, "amid fiscal and monetary tightening, high imported inflation, weak external demand prospects and flood-related disruptions.
This is broadly in line with government forecasts, down from its initial target of 5% and a forecast of 3.5% in the IMF program.
The 2010-2011 floods contributed to Pakistan's weak recovery from the global financial crisis.
Authorities estimate flood damage at $10 billion to $30 billion, but reconstruction costs are likely to be lower, as will the impact on Pakistan's twin deficits.
The rating agency said growing political instability could lead to policy slippages once the IMF's ongoing $6.5 billion program ends in June 2023.
He said former prime minister Imran Khan, who was ousted in a no-confidence vote on April 10, continued to exert political pressure on the government, staging protests across the country calling for elections. anticipated.
Imran's party, the PTI, won by-elections in the key province of Punjab in July, beating the incumbent PML-N.
The PTI won more national and provincial seats in the October 17 by-elections.
"Regular elections are scheduled for October 2023, which creates the risk of political slippage after the conclusion of the IMF program expected in June," Fitch noted.